Building your satisfaction on our reputation
Flat roofing Exeter, Flat roofing Teignmouth, Flat roofing Dawlish, Flat roofing Newton abbot, Flat roofing paignton, Flat roofing Torquay
5 Star rated - Builders & Home improvement specialists
We cover: Teignmouth, Dawlish, Newton Abbot, Exeter, Torquay, Paignton & Surrounding areas
DJR Developments are a building and flat roofing contractor based in Teignmouth. Over the years we have developed a reputation for quality building services and aspire to be one of the leading building companies & flat roof installers in the UK. Our specialist roofers provide flat roofing services for residential and commercial clients across Teignbridge, Exeter and surrounding areas.
Whatever your roofing needs we will provide you with the highest levels of customer service. All our work comes with full guarantees of up to 25 years. And we will make sure your work is finished on time and within budget.
A Full Range of Roofing Services
As a leading roofing company we have the capability to repair or install almost any type of flat roofing system. This includes Mastic Asphalt Roofing, GRP (Fibreglass), EPDM (Rubber) and felt flat roofing. No matter how big or small your roofing problem is DJR Developments will be able to provide a solution.
Before any flat roofing job starts we will provide you with honest advice and a free no obligation quotation. Then we will send out a team of full professionals who will complete your work on time.
As a trusted roofing contractor we will provide a full guarantee with all our flat roofing. This means in the unlikely event of something going wrong with your roof, our team will come out and rectify the problem without any cost to you.
If there is anything else you want to ask us about flat roof repairs or installations please get in touch, we will be happy to help you.
If you want a quality flat roof installation that is a cut above the rest, then you've come to the right place. At DJR Developments, we strive to keep your flat roofing cost low while maintaining high quality. We have a reputation in the local area for the quality of our workmanship and the value of our flat roof installations.
In addition to our roofing services we also provide specialist building services from kitchen fitting to renovations we have you covered.
flat roofing Near Me? Yes! We cover Teignbridge & Exeter area.
Flat roofing Exeter, Flat roofing Teignmouth, Flat roofing Dawlish, Flat roofing Newton abbot, Flat roofing paignton, Flat roofing Torquay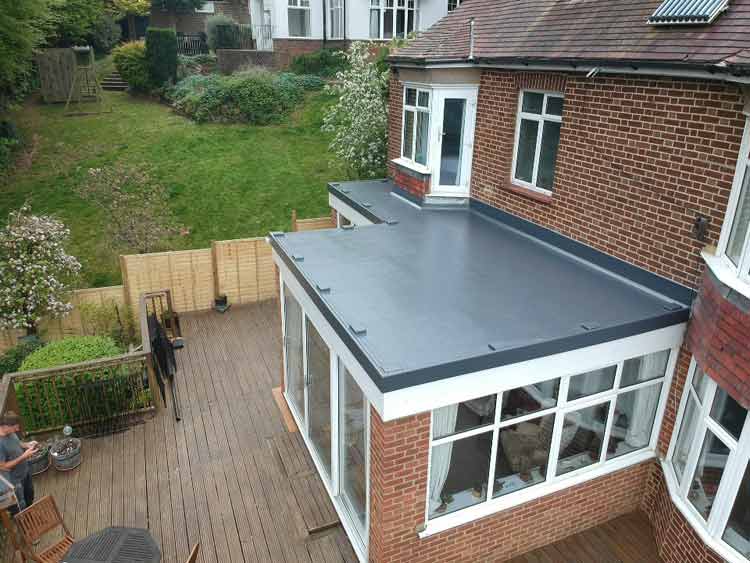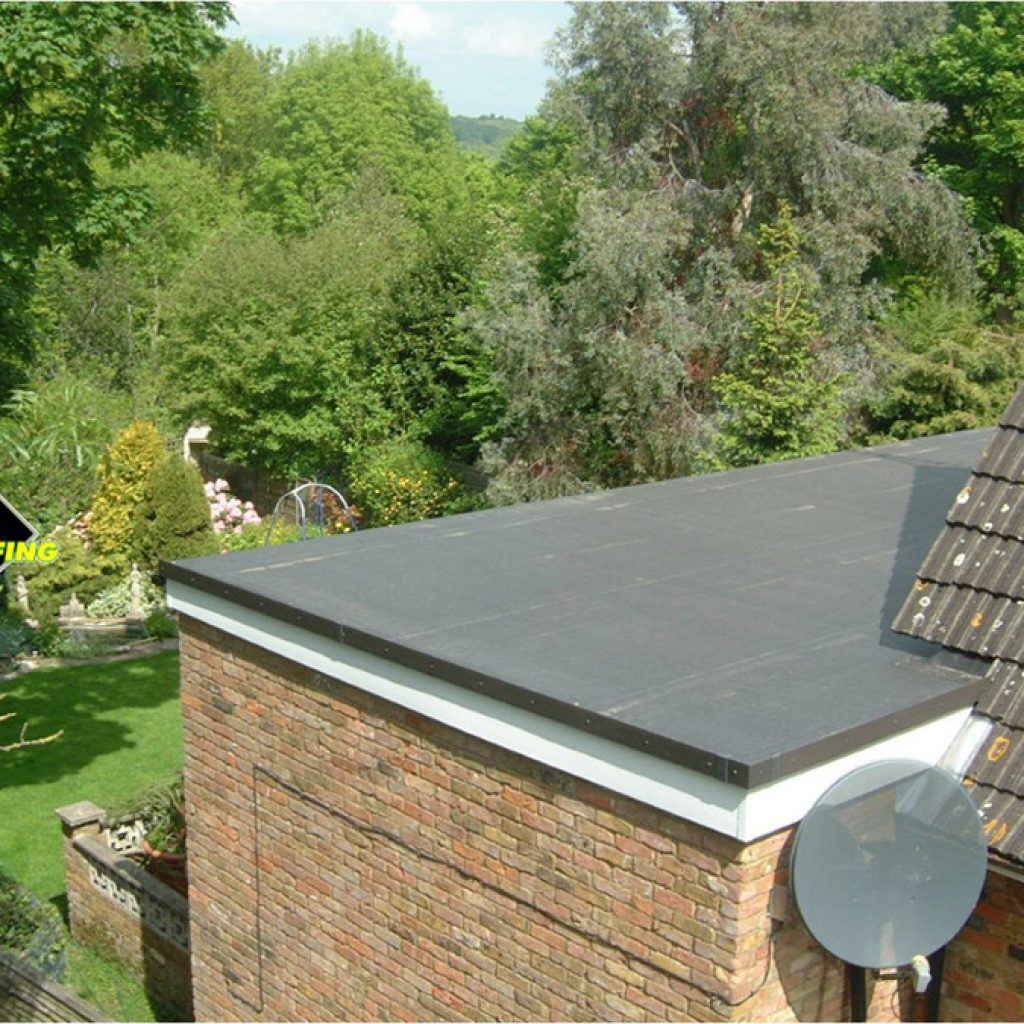 Common flat roof materials:
Asphalt:  One of the oldest types of flat roof. Felt is bonded with asphalt in the factory. It is then rolled out and can be held down with nails or Asphalt cement. There will be multiple layers of which the top one is gravel coated, so similar to RBM. It's the least expensive but also needs replacing most regularly.
EDPM:  Whilst felt has been the traditional material for RBM roofs, new rubber based materials have come to the market which are harder wearing and last longer. They still come in a roll and provide a much plainer smoother finish.
Glass Reinforced Plastic (GRP):  A very strong material that is also on the hulls of boats. It is used more on commercial buildings and is very strong and durable, and more expensive. It has a life expectancy of around 40 years if maintained well and can be walked upon. Grey is the most common colour due to its likeness with a lead roof. It's fairly inflexible so can only be used for a straight surface where there is no movement.
Tiles:  Some flat roofs are designed to be regularly walked upon, such as a roof terrace or balcony, so a more substantial material is required. These tiles come in a variety of materials including porous concrete, rubber, bitumen, plastic and fibre cement. As with any load-bearing surface it's important that the roof is strong enough to take the increased weight of the materials and people on top of them.
We are a 5 star rated general builders, specialising in renovations and also covering all aspects of domestic and commercial building works, which include – but are not limited to – kitchens, bathrooms, carpentry, plumbing, flat roofing, Insulation & extentions DJR Developments has built up a first class reputation by successfully delivering high quality projects. The company's core values are "trust, quality, and reliability."